IF YOU CAN MEASURE IT
YOU CAN IMPROVE IT
We combine data, technology and cognitive learning to stimulate tactical performance, based on proper analysis and efficient communication.
POWERED BY DATA
AND SCIENCE
Players move from tactic board theory and passive video visualisation to active learning through immersive experience.
It's not just about learning what to do, it's about feeling and experiencing it, creating a holistic understanding that translate into better actions on the pitch.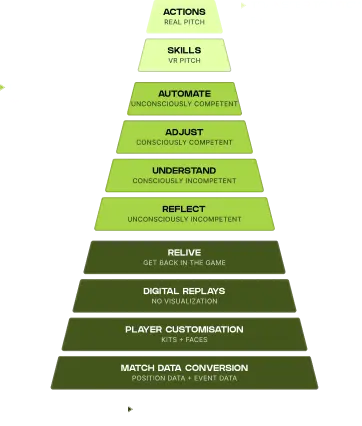 Mistakes happen all the time. The trick is to learn from your mistakes to constantly improve. Applying Replays certified cognitive learning model helps understanding the nature of the mistake, effectively providing proper coaching guidance.
Replay data-based VR training is particularly effective in complex learning conditions like tactical training.
GAME PERCEPTION
DECISION-MAKING
TRANSFER TO PITCH
Replays VR training is based on real data from real players and real match situations. This allows analyst and coach teams to more effectively train performance, on team level as well as individually.
Contact us
KRONPRINSESSEGADE 46E 1306
COPENHAGEN
Denmark

+45 40 30 63 30
© 2023 Replay Institute 2.0 ApS